I Always Cra at Weddings
by Sara Goff
Published in 2015, Sara Goff's novel, I Always Cry at Weddings, is about Ava Larson, a young woman who is willing to lose everything in order to find true love. When it seems that everything is going wrong, Ava feels a loss of identity and the world seems different and dark. She starts to fear men and worries whether or not she would be ready for the right man when he presented himself. But she decides to live in faith, not fear. Goff's novel is a story that demonstrates the power of getting out of one's comfort zone and bravely going for what the heart desires most.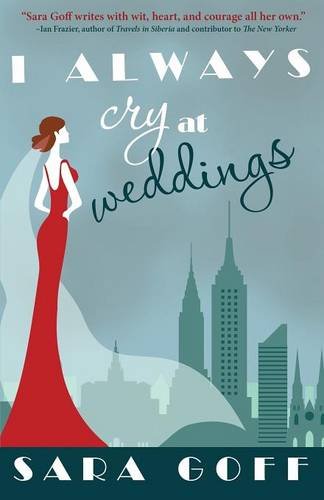 After cancelling her planned wedding to her first love, Josh, only 28 days before the event, Ava's life goes into a tailspin, Distraught from all her problems in life, she walks into a church and prays to God to help guide her, promising to delay sexual intimacy until marriage.
After a short time, she dates a guy named Julian who was an undercover cop with cool style and a rugged appearance. Since she was very attracted to him she struggled to keep her vow. Aside from the fact that she regretted giving up her virginity in the first place, she told him the reason for the vow of celibacy, "…I want love, but in my last relationship, sex only made it hard to see that we weren't right for each other."
You'll have to read the book to find out the unlikely person and place where she finds true love. I enjoyed this story because it was well written and had strong characters with supporting details well laid out throughout the book. I think it could even be made into a movie someday. It also gave me a feeling of what living in NYC might be like.
It was a great story showing that one can't always judge by the external. I would recommend this book to young women before getting married so they learn not to accidentally "settle" for less than what they deserve, which is to be loved for who they are as a person. The author makes the moral of the story loud and clear at the end of the book, saying through narration, "Maybe the real purpose of love was to channel kindness, generosity, and acceptance from Heaven to the human race."
Reviewed by Emerald O'Brien